GALAXYFEVER UFO TOY DRONE
Want a drone that doesn't require a remote control? NO BATTERIES? The UFO Drone requires no remote and can be controlled simply by hand gestures! Uses high-tech infrared sensor technology, it detects and avoids obstacles!
Extremely easy to use and control, just toss the UFO Drone in the air, and it will start flying on its own!
By placing your hand on the opposite side of where you want it to go, you can control the direction and altitude by simple hand gestures!
To charge the UFO Drone, simply plug into the wall and it will fully charge in 40-60 mins!
Great entertainment for all ages! Definitely a must-have in your toy box!
Flying A Drone Has Never Been So Much Fun!
The UFO Drone is capable of 360 degrees rotation during flight and can hover easily in mid-air, thanks to its built-in gyroscope and 4 powerful motors!
With 2 speed modes to choose from, you can select the appropriate flying speed relative to the amount of space it has to maneuver around!
Equipped with rechargeable lithium batteries that can be conveniently charged using USB, the UFO Drone can be flown both indoors and outdoors!
It also comes with LED lights that make it an awesome sight to behold at night!
A perfect gift for kids, yourself, or for the UFO lovers you know!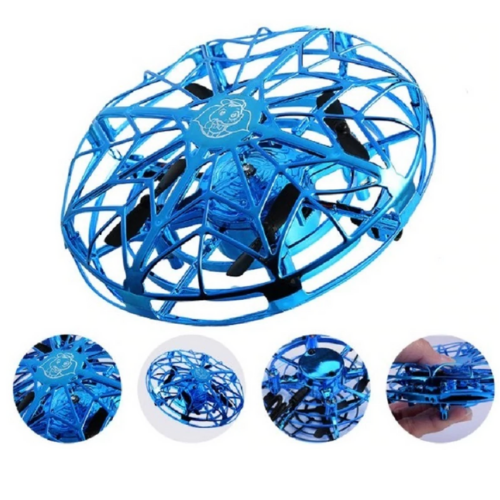 Kids & Parents all over the world are loving this UFO Drone!
Hours of fun with the family await with this incredible hand gesture controlled drone! No batteries. No remote. Made out of high quality crash-proof ABS material.
 "Super fun toy. Love that there is no batteries. Plug into wall to charge. Easy to operate. We tried it out and kids loved it!"- Lisa R, Florida (June 2019)